Democracy Festival
Democracy: Its Value and
for Whom?
On Friday, May 19th, 2023 in the Parish Hall, we had over 100 people attend a panel discussion titled "Democracy: Its Value and for Whom?" with four excellent speakers on how to support and defend our democracy:
● Danielle Allen, Harvard professor and founder of Partners in Democracy
● Tania Vivitski, direct experience with the importance of democracy to Ukraine
● Tanisha Sullivan, President of Boston's NAACP
● Jim Tull, expert in international conflict management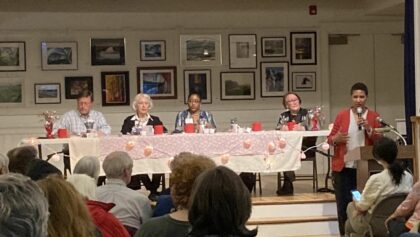 On Saturday, May 20th, 2023, First Parish in Concord hosted a non-partisan Democracy Festival. Our goal was to bring together people from all over to celebrate democracy, have fun, eat good foods, sing together, explore our artistry, meet local politicians, and learn about current issues facing our country and how we can help.
We had giant puppets and 26 exhibits/tables with community and statewide organizations, First Parish committees and social action groups, local religious organizations, activities and games for the kids and more! We had blast with much networking, connecting, and meeting new people all committed to moving our Democracy forward.
So much gratitude for the many hands and hearts that made our Democracy Festival a huge success! 
Check out this video from Day 2 of the Democracy Festival! A special thanks to The Minuteman Media for filming and editing!