Black Lives Matter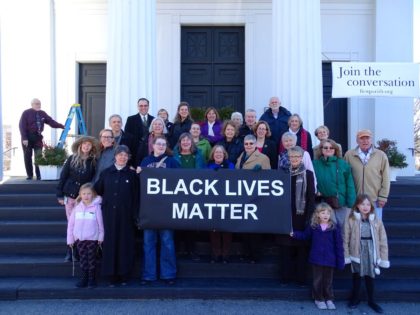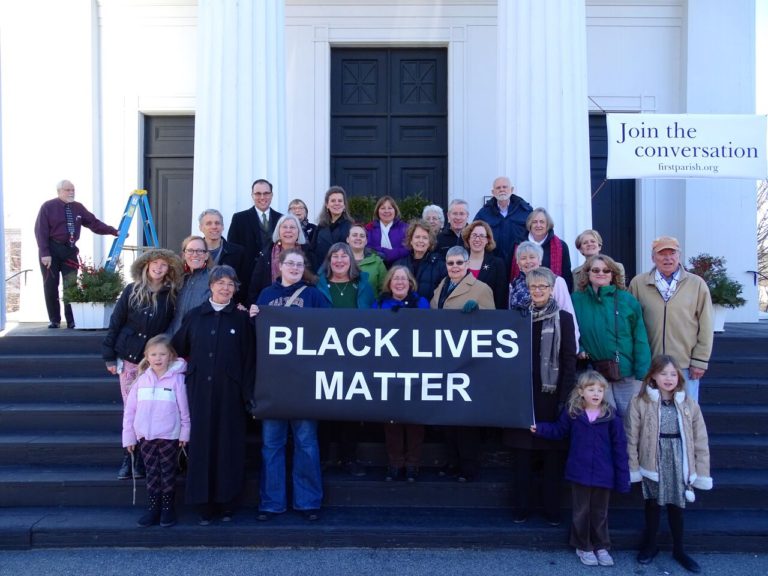 In December 2015 the Standing Committee (the governing body of this congregation) voted to hang a Black Lives Matter banner on the front of the church. The decision to keep the banner in place has been approved each year since by the Standing Committee. This public statement is in keeping with our Unitarian Universalist principles and is intended to encourage people from within and beyond First Parish to engage in conversations about racism and action promoting racial justice.
Press Coverage: View our Press Release on the Black Lives Matter Banners Stolen from First Parish in Concord in 2016.
Taking Action:
Since the hanging of our Black Lives Matter banner we have continued to learn about white supremacy and find ways to counter it. Our ministers have dedicated worship services to racism within ourselves and Unitarian Universalism. We have hosted events with community partners that have ranged from exploring how systemic racism has developed and been maintained in different eras and arenas, to practicing having difficult conversations about race. We have joined with other Unitarian Universalists and partner organizations to advocate for criminal justice reform in Massachusetts.
The death of George Floyd on May 25, 2020 was horrifying and inexcusable. It was, however, a catalyst, bringing awareness to many Americans of the difference between the experiences of white people and people of color in our country, as well as a desire to make change. Here at First Parish, we recognize the need to do more to strengthen our commitment to move our society toward greater equity and justice.
We have compiled a brief list of concrete steps you can take to help move yourself, our state, and our society to greater racial equity. They include resources for education, activism, and financial support for change agents, selected from much longer lists of worthy endeavors.
Documentaries shared with our local community:
Race: The Power of an Illusion, a 2003 three-part series that investigates race in society, science and history
Traces of the Trade, a 2008 documentary that explores New England's involvement in slave trading
Slavery by Another Name, a 2012 PBS documentary about the re-enslavement of black Americans from the Civil War to World War II
13th, a 2016 Netflix documentary about mass incarceration.
Say her Name: The Life and Death of Sandra Bland, a 2018 documentary about the arrest of a Black female driver and her death in police custody
Got ideas?
Contact the Racial Justice Action Group.