Black Lives Matter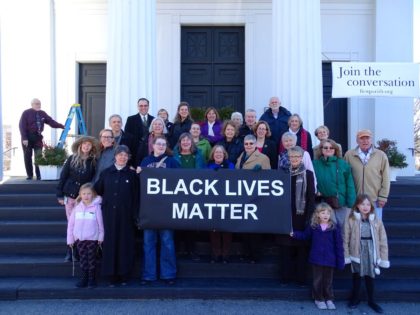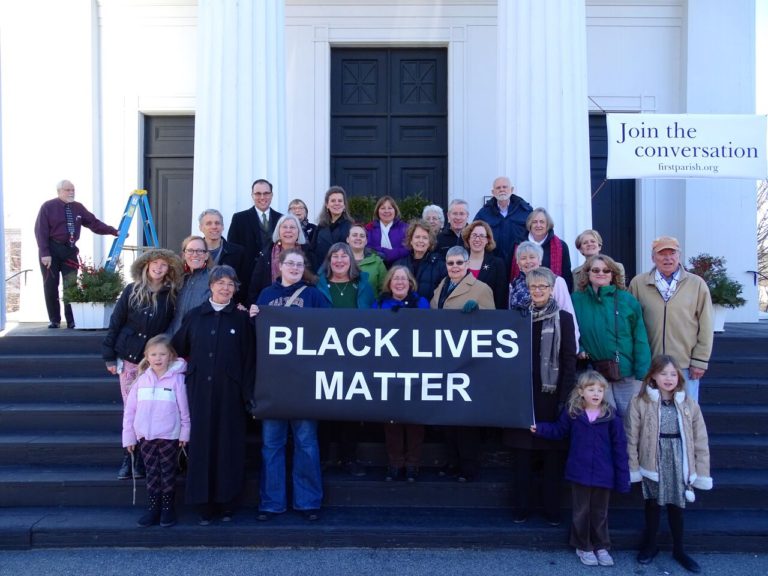 In December 2015 the Standing Committee (the governing body of this congregation) voted to hang a Black Lives Matter banner on the front of the church. The decision to keep the banner in place has been approved each year since by the Standing Committee. This action is in keeping with our Unitarian Universalist principles and is intended to encourage people from within and beyond First Parish to engage in conversations about racism and action promoting racial justice.
Press Coverage:
View our Press Release on the Black Lives Matter Banners Stolen from First Parish in Concord in 2016.
Concord Journal article on the May 1, 2016 Carl Williams Forum, written by First Parish member, Don Miller.
Readings:
The New Jim Crow by Michelle Alexander
Waking Up White by Debby Irving
Between the World and Me by Ta-Nehisi Coates
When Whites Just Don't Get It by Nicholas Kristoff
American Apartheid by Douglas Massey and Nancy Denton
Whistling Vivaldi by Claude Steele
Just Mercy by Bryan Stevenson
The UUA suggests these other resources

Media:
"How I Learned to Stop Worrying and Love Discussing Race," a TEDx talk by Jay Smooth
"How to Overcome our Biases? Walk Boldly Toward Them," a TED talk by Verna Myers
Documentaries:
Race: The Power of an Illusion, a 2003 three-part series that investigates race in society, science and history
Traces of the Trade, a 2008 documentary that explores New England's involvement in slave trading
Slavery by Another Name, a 2012 PBS documentary about the re-enslavement of black Americans from the Civil War to World War II
13th, a 2016 Netflix documentary about mass incarceration.
Taking Action:
Standing on the Side of Love, the UU advocacy organization, suggests these resources.
Showing Up for Racial Justice (SURJ), a national network of groups organizing white people to work for racial justice, provides resources and local connections.
Got ideas?
Contact the Racial Justice Action Group.