UU the Vote at First Parish in Concord

The 2020 elections will be the most important in living memory. That's why, on January 12, the UUA launched UU the Vote to support congregations and UU organizations in activating thousands of UUs to mobilize voters, counter voter suppression, and to engage in spiritually grounded, values-based issue conversations with voters in their communities.
First Parish in Concord UU the Vote Mission and Goals
We will work collaboratively with our social justice partners and focus primarily on increasing voter turnout and countering voter suppression of marginalized populations and youth. We also plan to have activities that will support efforts in key states where the need is greatest.
Our goals are to:
Involve as many members of the congregation as we can

Have an impact on the 2020 election that reflects our values as Unitarian Universalists
Video of September 10 event UU the Vote: Last Chance to Act now available

Click HERE to watch the video. The passcode is: T3Y2k@aH
Suggested Activities for Parishioners – updated Sep. 25

To sign-up to participate in the activities below, please complete the
Send Postcards
Send postcards from Reclaim Our Vote: First Parishioners have been responsible for contacting more than 9,700 citizens in southern states to help overcome voter suppression. Parishioners have enlisted family, friends, and neighbors to improve access to the ballot box for people marginalized, ignored, or otherwise discouraged from making their voices heard. Each packet contains 20 addresses, postcards, and stamps, instructions, and a script for you to follow. A modest reimbursement is requested to cover the cost of the materials. Please contact lesliefisher@treitman.com or 978-287-0456 to help continue this important work.
Family Friendly Activities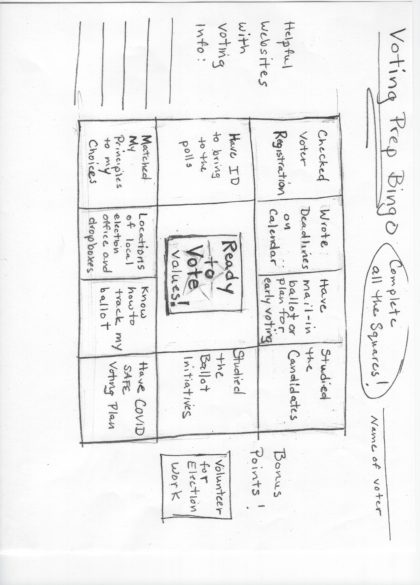 Do you want to be a Ballot Boss?  A Voting Team Captain?  Print out copies of this Bingo-like chart for several adults in your life to help them prepare to vote!   Decorate it.  Use pretty stones or coins as markers, and add the markers to each square as the adult completes that voting preparation.  When all of the squares are covered, the adult you are coaching is ready to vote!   Reward your adults, find information and websites they need, call them on the phone, give them gold stars, celebrate their successes with Facebook postings.  Get them to the finish line and help them vote their principles and values.  Share your Ballot Boss work with us at First Parish.
Kids are powerful.
Text Banking – need computer
Pennsylvania Stands Up Weekly Voter Registration Textbank:  Politics is broken. We know that the people who broke it aren't going to fix it. It's up to us to build a force for change, a Pennsylvania that works for all its people. Whether it's registering voters for the first time or making sure they apply to vote by mail (and send it back!), join our effort to engage our friends and neighbors in the political process by exercising our right to vote. You can sign up for text bank training on Tuesdays from 5:00-6:00pm at: https://mblz.io/udMJMh. Text banking to voters takes place on Mondays from 4:30-7:30pm on Sep 28, Oct 5 and Oct 12. Sign up at https://mblz.io/BtBR50/r.
CASA (with The Center for Popular Democracy) Volunteer Text Bank
Text voters in PA with CASA: Our partners at CASA are reaching out to voters (particularly Latino and immigrant) in underserved, underrepresented parts of Pennsylvania and helping them register to vote, and they are having great results reaching voters by text. Many of our volunteers have been very enthusiastic about text banking, since it can be a nice option for people who get nervous about phone calls, and we're excited that we will have many opportunities to text with CASA. Training is done at the events. Sign up HERE. Vote by Mail: Sun, Sep 27, 2-5pm; Sat, Oct 3, 10-1pm; Sat, Oct 10, 10-1pm; Sat, Oct 17, 10-1pm; Get Out the Vote: Sun, Oct 18, 2-5pm; Sat, Oct 24, 10-1pm; Sun, Nov 1, 2-5pm
Phone Banking – need computer and phone
The Phone Bank Team of Reclaim Our Vote announces the Every Tuesday national phone bank series. They are holding a phone bank every Tuesday, 5:00 PM to 7:30 PM Eastern, 2:00 PM to 4:30 PM Pacific, calling voters of color in North Carolina,Texas, Arizona, Alabama and Georgia–with Florida and other states being added soon.
Click here is sign up for a phone bank actionnetwork.org/campaigns/every-tuesday-phone-banks
Reclaim our Vote says: More than ever during the current Covid-19 crisis, we need to take actions that will help voters of color in voter-suppression states avoid long lines on November 3rd by giving them crucial information related to absentee voting and early voting.  We need to remind them that voting is a community event–and we need to make sure they feel invited to become full members of that community!
RCV is also holding special Zoom phone bank training sessions for brand new ROV phone bankers, and/or phone bankers who have never called from their homes using NGP VAN, Mondays at 7:30 PM Eastern / 4:30 PM Pacific. (To sign up for a Monday training session please click here.)  This training session will last about one hour.
UU the Vote non-partisan weekly phone banks into North Carolina every Thursday night from 6-8:00pmET, between now and the election.   Sponsoring congregations pledge to bring at least 10 volunteers (and ideally more!) to the phone bank they host to make calls to NC voters who might need help getting registered or figuring out their voting plan. Training and tech support are provided the night of the phone bank: all sponsoring congregations need to do is provide volunteers and enthusiasm! If your congregation would like to sponsor a night of NC calls (or if you would like to sign up to phone bank as an individual), please fill out this form HERE. NC: October 1, 8, 15, 22, 29
UU the Vote National Call-in Days to Voters in Wisconsin and Florida: Every other week until election day, UU's from across the country are making non-partisan calls together to register, mobilize, and persuade voters in 2020. Please sign up here!  Sept. 29 (FL), 30 (WI); Oct. 21 (WI), 27 (FL); Nov. 2 at 6pm (FL),  7pm (WI)
Pennsylvania Stands Up Weekly Voter Registration Phone Bank: Join us for our Thursday, 4-8pm weekly phone bank to help register people across the state of Pennsylvania! With this November's election shaping up to be the most important in decades, we need YOUR help to reach our goal of registering 5000 new voters! Are you in? To sign up for training on Wednesdays from 4-5pm ET click: PASU Calls Team Training. To register for phone banking click: Weekly Voter Registration Phone Bank – Thursdays, 4-8pm ET, Oct 1, 8, 15
Help Out at the Polls
Contact local town clerks / election officials about their needs, especially in larger cities where needs are more critical. Check out Secretary of State Galvin's website to see where poll workers are needed: Elections: Be a Poll Worker. Ask your friends and family to work the polls. Keep in mind that young people, including college students, are prime candidates to work the polls given their more flexible schedules this fall. Students between the ages of 16-18 may also participate, but even if volunteering they must have "working papers." The forms for this process are found HERE.
Instructions for becoming either a poll worker or a vote counter to support the Concord Town Clerk Kaari Mai Tari, Phone: 978-318-3080.
Go to this site: https://concordma.gov/342/Town-Clerk
Click on: Elections and Voting on the left column of the screen.
Click on: Election Workers on the left column of the screen
Click on: Election Officer Application for Appointment (on the screen)
After filing the application, you may be contacted to provide support at the polls—which run for many days given early voting—or you may be asked to help to file early voting ballots or count regular ballots. The precise protocol is still being refined but keeping folks safe is the fundamental focus. A calendar is being developed over the next weeks.
The Safe Elections Network is fighting for safe and participatory elections in Massachusetts so that everyone can make their voice heard. We also see every election as an opportunity to build political power in our communities that have long faced barriers to participation, like our BIPOC, low-income, and student communities. Join us in building political power and protecting the vote in Massachusetts this fall!​
Sign up to:
Provide Financial Support
Support the Reclaim Our Vote Billboard Campaign: Reclaim Our Vote empowers community of color voters in 8 target states.  Our goal is to inform and mobilize them, so they can elect people who will fight for their interests. Many of these voters live in rural areas, where they can be difficult to reach people with calls, postcards and texting.  That is why we are launching a billboard campaign — a proven effective strategy — and we need your help. The Message is simple — Your vote matters. The billboards give essential information, such as how to register to vote, early voting periods and voting locations.
UU the Vote 2020: With your help we can activate 1 million+ voters and potential voters in Florida, Ohio, Pennsylvania, Georgia, North Carolina, Wisconsin, and other focus states targeted by voter suppression tactics. Your donation of $50 will fund the cost of making 1,200 calls to voters in key parts of the country; $100 will fund a congregational team of volunteers calling 2,500 voters; $500 will enable a State Advocacy Network to sponsor a statewide phonebank, while also building relationships among our congregations and strengthening our statewide organizing infrastructure for the long haul. Click HERE to donate.
Voter Education
Send a friendly note to your friends and family members. Click on this link friendly note and copy the content into a draft email message. Then edit it to make it your own, making sure the links stay in place, and send it to the email contacts of your choice. You can focus on a few people and send more personal messages, or send the same message to as many of your contacts as you wish.
Brave New Films: Host / watch a free virtual 40 minute screening of Suppressed 2020: The Fight to Vote!
Work With Our Partner
Concord Indivisible: biweekly huddles with a menu of actions including postcards and phone banking
Sign-up to Participate in the Activities
Please complete the UU the Vote: Activity Interest Survey
First Parish in Concord UU the Vote Steering Committee
Lilian Anderson, Mary Ann Barton, Adrienne Betancourt, Nancy Cronin, Leslie Fisher, Wendy Holt, Sally Lewis, Diane Proctor, Sue St. Croix, Fred Van Deusen