UU the Vote at First Parish in Concord

2022 Elections in Massachusetts
Massachusetts has a lot of useful online information to assist you in registering to vote and voting.
For the general election vote by mail applications are due by November 1, early voting takes place Oct. 22 through Nov. 4, and the election is Tuesday, Nov. 8. 
What's On Your Ballot? Four Ballot Issues
In addition to the constitutional offices from the recent Primary Election, the November 8, 2022, General Election ballot will include four ballot initiatives. Those ballot initiatives are described further on the Secretary of State's website at: https://www.sec.state.ma.us/ele/ele22/information-for-voters-22/quest_1.htm. 
Candidate Forums Ahead of the November Election
Please be sure to check LWVMA's web calendar for candidate events ahead of the November election. In addition to the many local League sponsored forums, LWVMA is partnering with the Massachusetts Women of Color Coalition to plan a forum for three state-wide races: Governor, Secretary of Commonwealth and Attorney General. Stay tuned!
14th Middlesex District Candidate Forum
October 11th, 7 p.m., Harvey Wheeler – In person only; recorded
Call for Questions: Deadline 9/30/22
The Leagues of Concord-Carlisle, Acton Area, and Chelmsford will be holding a Forum for the candidates for State Rep. of the Middlesex 14th District in the general election: Simon Cataldo (D-Concord) and Rodney Cleaves (R-Chelmsford).
The forum will take place in person on October 11th at 7 pm in the Harvey Wheeler auditorium in West Concord (1276 Main St., Concord). It will also be recorded by Minuteman Media Network and available shortly afterward online and on local cable access channels.
Please send questions you would like asked during the Forum to voterservice@lwvcc.org. We welcome questions from League members and the general public. Deadline to submit questions is September 30th. There will also be questions taken from the in-person audience during the event.
NOTE: As a result of the 2020 Census, Concord is now divided into two districts, the 13th, and 14th. Not sure of your district? Check your district here.
First Parish in Concord UU the Vote Program
The November, 2022 midterm elections will be the most important in living memory. We at First Parish in Concord are participating in the national UUA program titled UU the Vote. Together with UU congregations and organizations around the country we will activate thousands of UUs to mobilize voters, counter voter suppression, and engage in spiritually grounded, values-based issue conversations with voters in their communities.
Our goals are to:
Involve as many members of the congregation as we can
Have an impact on the 2022 election that reflects our values as Unitarian Universalists
We found during the last election that our efforts do matter. In the coming midterms we need to encourage people to get out the vote and we know our actions can inspire others! Join us in making a difference!
and Receive the Latest Opportunities to Participate
Suggested Activities for Parishioners

  

Sending Post Cards
If you'd like to start sending cards, we are partnering with The Center for Common Ground / Reclaim our Vote, currently working in Virginia, North Carolina, Georgia, Florida and Texas. This link will take you to the page to learn more (https://www.centerforcommonground.org/postcarding). There is a short video to explain how to go about this process.
Postcards, mailing list, and supplies can be requested from Paul Langston-Daley (PLangston-Daley @ FirstParish.org).
Poll Worker
Contact your local Town Clerk's office to sign up to be a poll worker. Here is the information for Concord.
Address:
Town Clerk
22 Monument Square
Concord, MA 01742
Email: townclerk@concordma.gov
Phone: (978) 318-3080
Volunteer Call: Ballot Workers – Concord
October 6 – November 7, 2022  9 a.m. – 3 p.m.
LWVCC is assisting Kaari Mai Tari, Concord Town Clerk, in staffing a team of ballot workers who will help prepare, send out, sort, and verify the thousands of mail-in ballots that Concord residents are expected to request for the November 8 General Election. Contact Karlen Reed at Secretary@lwvcc.org to participate. Workers can either volunteer or be paid for their time.  
 Volunteer Call: Ballot Workers – Carlisle
The Carlisle Town Clerk, Peggy Wang, is also seeking Carlisle residents who are interested in volunteering to help process the upcoming General Election ballots. Contact Clerk Wang at townclerk@carlislema.gov.
Letter Writing
Write to Voters in Texas, Arizona, Florida, Georgia, Michigan, Nevada, North Carolina, or Pennsylvania (social campaigns)

Write letters now, and mail them in October to historically underrepresented communities. Encourage them to vote in November. It's easy and effective.
Write to your members of Congress in support of changes to the

Electoral Count Act

to help prevent future attempts to overturn an election.

Send letters electronically.
Ask Your College
In the 2020 election, voter turnout was highest among those ages 65 to 74 at 76.0%, while the percentage was lowest among those ages 18 to 24 at 51.4%. A healthy democracy needs more young people to vote.
Ask Your College is a volunteer program that helps you encourage the colleges you're connected with to register more of their students to vote.
Good news: some colleges are registering 95%+ of eligible students by helping them complete the appropriate forms. However, most schools still need your encouragement to achieve this goal. Through Ask Your College, you can send them the information they need to help register more of their students. Even in small numbers, these messages have persuaded colleges to improve their practices.
Email AYC@fcleadership.org with the names of colleges you're connected with, and we'll help you easily send them an important and useful email message. Thanks!
Voter Registration
Text Banking
Young people are more motivated than ever to get out and vote. Still, we need your help providing them with information on how to do just that to ensure their voices are heard. 

Whether you've been texting with us all year, never textbanked before, or are ready to get involved again after a break from 2020, we welcome you! 

Choose the shift that works for you and we'll provide the script, texting platform, resources, and a community to connect with other NextGen volunteers! 

Weekdays, 1:00-3:00pm ET, now through October 
Center for Common Ground uses three (3) Peer to Peer (P2P) texting platforms: Spoke, Outreach Circle and CallHub Fast P2P.  We plan to text 3 million Black voters who did not vote in 2020 or 2018. The texting schedule is shown below.‍
Virginia

– just launched! (Outreach Circle)

Georgia

– Begins late September (Outreach Circle)

North Carolina

– Begins early October (Outreach Circle)

South Carolina

– Texting Begins October 1st (Outreach Circle)

Florida

– Begins early October (Spoke)

Texas

– Begins mid October (Spoke)

Alabama

– Begins late October (Outreach Circle)
To sign up to text with us complete the Action Network Form indicating which state you would like to text as well as any texting tools where you have experience.
On Tuesday, Sep. 20, we launched our National Textbanking Program with the ambitious goal of reaching 5 million poor and low-wealth, low-propensity voters across 15 strategic priority states. In the first five days of the program alone,

we trained over 350 new volunteers who, in turn, texted over 600,000 poor and low wealth potential voters in 11 strategic states

, including AL, IL, TN, WI, OH, TX, AZ, SC, NC, MS and PA.
We invite you and your friends, family, members of your state coordinating committee, faith denomination, or organization to join us at one of our upcoming virtual gatherings. No previous experience necessary– all virtual gatherings will begin with a textbank training led by a PPC Textbank Administrator. Select the day of the week and time of the day when you would like to text, and click on the button below to register for upcoming textbanks.
Phone Banking
Center for Common Ground – phone banking to Virginia – various dates
We are calling Black voters in various counties and age groups to get out the vote for the November 8th general election!
Election Protection
Common Cause Massachusetts:
Last year in 2021, at least 19 states passed 34 laws restricting access to voting – meaning that eligible voters in 2022 will face new and confusing restrictions on their right to vote. Unfortunately, voters this year will face obstacles that have no place in a modern democracy — and these impediments to voting will hit communities of color the hardest.
That's why every election year, we recruit, train, and deploy hundreds of Election Protection volunteers in Massachusetts, and thousands across the nation.
We hope you will join the Common Cause Protect the Vote 2022 campaign. We will train you, and your fellow volunteers will have your back the whole way. There's a role for everyone — whether it's helping voters from home, assisting voters safely in person, or tracking online disinformation. Sign up today >>
Work With Our Partner
Concord Indivisible: has huddles and a menu of actions and rally events.
Coffee, cards, and conversation in Concord
Join Concord Indivisible and friends for an outdoor get-together for postcarders, every other Tuesday at Main Streets Cafe in Concord Center (picnic tables out back). Grab a coffee, pick up a packet of postcards, write a few, chat a lot — a fun way to start the sprint to the mid-terms finish line. 
Events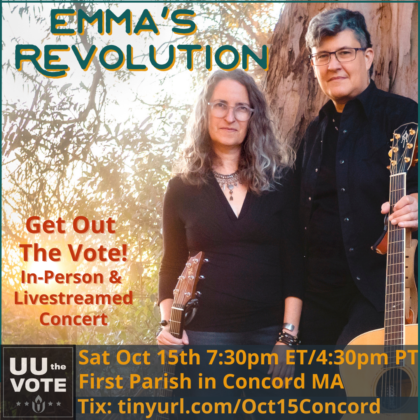 UU the Vote and UUA leaders are joining congregations, State Action Networks and frontline partners for on-the-ground actions and national mobilizations to make sure the values of democracy, bodily autonomy, and human dignity are heard in the 2022 midterm elections.

Don't miss President Susan Frederick-Gray, JaZahn Hicks, and Nicole Pressley at our Fall Flex events!

From knocking on doors to working the polls, we need Unitarian Universalists to harness the power of our faith to take meaningful actions as we approach another critical election year. 

Here are 3 ways you can join the #FallFlexfor4Million today:
Voter Mobilization Keynote with Andrea Miller, held on Tuesday, Sep. 13 
Andrea Miller is the Founding Board Member of the Center for Common Ground (CCG), and an inspirational, unwavering fighter for racial justice and voting rights. She's a very engaging and enthusiastic speaker.

Andrea spoke to us about Center for Common Ground's 2022 plans for getting out the vote in key states, both on the ground and remotely. We learned about postcarding, texting, phone banking, and other opportunities. And most of all, we left with a sense of enthusiasm for the work ahead of us, and an understanding of how CCG's work supports the UU the Vote program.
State of Our Democracy: Reforms to Renew And Strengthen It Going Forward, with Lee Drutman, held Wednesday, Sep. 21
Here is the video from the event: https://youtu.be/3LibzyzurV8

Join UUSJ to hear comments by public commentator and scholar Lee Drutman, Senior Fellow, Political Reform program, at

New America

about the state of our democracy and what we need to do for it.  

Lee was named one of Washington's Most Influential People by Washingtonian magazine in 2021; he has published numerous pieces in the New York Times, Washington Post, Vox, NBC Think, and Foreign Policy, among many other outlets. He is also the author of Breaking the Two-Party Doom Loop: The Case for Multiparty Democracy in America and The Business of America is Lobbying. Lee is the winner of the 2016 American Political Science Association's Robert A. Dahl Award, given for "scholarship of the highest quality on the subject of democracy."
First Parish in Concord UU the Vote Steering Committee 2022
Rev. Paul Langston-Daley (Chair), Sally Lewis, Diane Proctor, Sue St. Croix, Ian Simmons, Fred Van Deusen, Lora Venesy