September 2008 Visitors
From Thursday September 18 through Monday September 29 we hosted four adults and five youths from our partner church. Many many thanks to all who helped make this such a memorable and moving visit!! On this page you will find
(Click on any of the above to navigate to the corresponding section below) [Rodger Mattlage, our webmaster welcomes comments, questions and suggestions.]
---
Here are eight of the nine visitors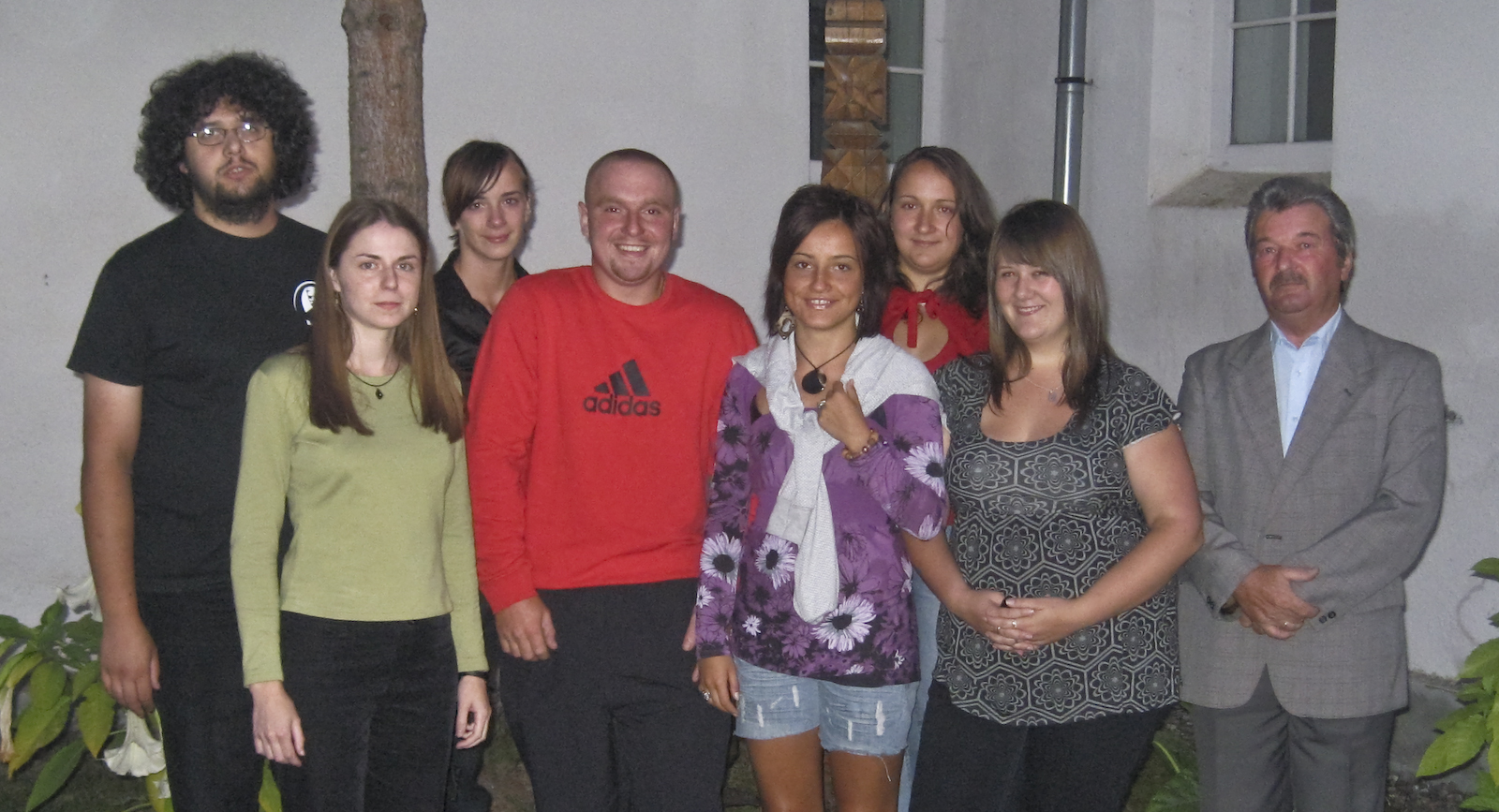 Their names (with pronunciation guide) in order – left to right are:
Reverend Sándor Lakatos (behind) SHAHN-doorr LAW-kaw-tosh
Mrs. Emese-Timea (Emese) Nagy EM-esh-eh NAWGE
Magda (Magdika) Bodó-Séra MAWG-dee-kaw BOE-doe-SHAY-rrah
Attila Hegyi AWT-tee-lah HEH-gee
Orsolya (Orsi) Simó OARR-she SHE-moe
Reverend Amália Varró AW-mahl-ee-aw VAWRR-rrow
Réka Gagyi RRAY-kaw GAW-gee
Mr. Lajos Csézár LAW-yosh CHAY-zahrr
Réka Balogh (missing) RRAY-kaw BAW-lowg
(CAPS indicates stress/accent/emphasis)
("rr" indicates "rolled r")
Click here to view => Pictures and Biographies
---
The following schedule was also printed in September's Meetinghouse News and you can also download it. Click here to download => Activity Schedule PDF (113.12 Kb) Click here to see photos => Keresztúri Visit Album
---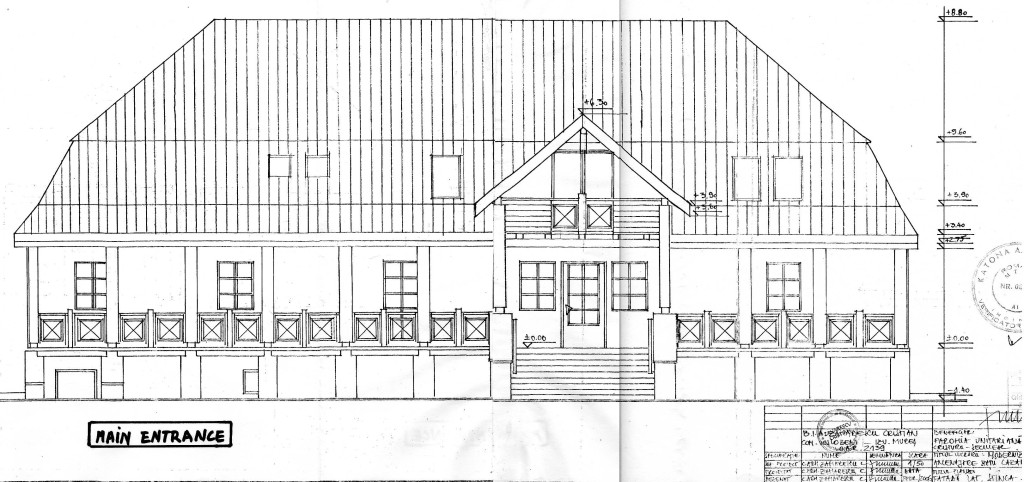 In 2007, the Romanian government finally returned one of the large Unitarian school buildings that had been confiscated by the former Communist government (which was overthrown in 1989). Unfortunately, the building was so neglected and badly abused that only the shell could be salvaged.
Our partner church has completed its ambitious plans to reconstruct the building to house the following
Ministers' office
Library and Archives for their 300 year-old collection of documents
Parish hall with full kitchen
Women's center
Youth center
Seven guest rooms to accomodate up to 28 guests and generate much needed income
New – 10/6/2009 – Please see Our Community House Dedication Album for photos of the completed building and the all the September events In July 2009, our Youth Service Pilgrims (18 youths and 6 adults) worked on the landscape around the building and wove rugs for the floors. They also raised an additional $1,320 from our congregation which they donated to the project. In the special collections at our Transylvanian Unitarian Thanksgiving services on September 28th, 2008 our generous congregation contributed $2,954 for the benefit the project. Many thanks to all for your generosity!! Our youth worked on the early stages of this project during their July 2007 service pilgrimage, and our choir pilgrims toured the building a month later during their August visit. Our Concord Partner Church Council applied to our Socal Action Council which generously awarded the project $5,000 in the spring of 2008 The SAC awarded an additional $3,000 in the spring of 2009. Many thanks to the SAC Grants Committee members for their generous support! The cost of the project was estimated to be $310,683. The Keresztúr church has now identified all the funds needed to complete the project. The Community House dedication ceremonies in Székeltkeresztúr were be held on September 19 – 20, 2009. We were represented by Ivan and Ursula Kristoffy, Rodger Mattlage, Pat Brinkman and Peggy Claybrook. And, here in Concord we will celebrated our partnership and the Community House dedication at our Partnership Sunday services on September 20th. Stay tuned for more coverage of these events.
Click here to view =>
Photos
showing the pre-renovation views + in-process construction photos.
For additional information contact Rodger Mattlage .
---
[Rodger Mattlage , our webmaster welcomes comments, questions and suggestions.]