Transylvanian Performance!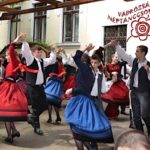 A
Transylvanian music and dance performance
will take place at First Parish on
Saturday, October 26 at 7:30 pm
. Seventeen native Hungarian student folk dancers and musicians from Székeleykeresztúr, Transylvania will perform, followed by instruction to teach a simple dance. Free will donations are welcome at the door.
Upcoming Events
Ken Cowan, regarded as one of North America's finest concert organists, will be performing at First Parish in Concord on Sunday, Nov 24 at 3 pm. Admission is free.