Transylvanian Performance!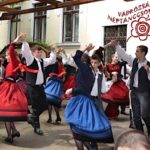 A
Transylvanian music and dance performance
will take place at First Parish on
Saturday, October 26 at 7:30 pm
. Seventeen native Hungarian student folk dancers and musicians from Székeleykeresztúr, Transylvania will perform, followed by instruction to teach a simple dance. Free will donations are welcome at the door.