SAC Programs
Areas of Focus
We are eager for you to join us in any way that works for you.
Social Action Community (SAC) programs fall under the following four general program areas. Click on each to explore more about its affiliated programs.
Program Areas
Global Action
Centro Arte Para La Paz, El Salvador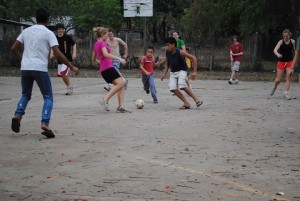 Our First Parish congregation was introduced to the Centro Arte Para La Paz (The Art Center for Peace) in Suchitoto, El Salvador during 2008 as a group of youth and chaperones prepared for a service trip in April 2009. The Center, run by the dynamic Sister Peggy O'Neal, provides education to people who have long struggled with war on ways to move ahead in a life of peace. The First Parish group supports the Center through various events, Centro Arte Para La Paz is a SAC Grants recipient.
Mil Milagros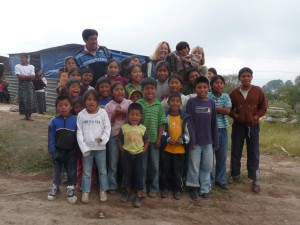 Mil Milagros works to ensure that children in Guatemala are well nourished, healthy and graduate from primary school. Partnering with families, schools and communities, Mil Milagros provides nutritious meals, health and hygiene care, and educational support. The program has grown to include developing leadership skills among mothers, grandmothers and students, and programs for infant early intervention and youth sex education programs.
Mil Milagros is First Parish's connection with the Guatemala Recovery Project (GRP), a larger effort that seeks to help under-served Mayan families heal and recover from a culture of civil war that traumatized them for decades. Only 40% Guatemala children finish 6th grade and 50-80% of the children suffer from chronic malnutrition. Guatemala has the fourth highest rate of child malnutrition in the world, and Mayan communities are particularly affected. GRP supports systemic change through education and health improvements.
The Guatemala Recovery Project (GRP) has sponsored artisan sales and other fund-raising events at First Parish, including benefit performances ("Chicken Man" in 2012 and "Wild and Precious" January 2014).
Mil Milagros is a SAC grant recipient.
Other team members: Diane Clapp, Fran Grigsby, Janet Rothrock, Mark Howell, Suzanne Elliott, Caitlin Selle
Partner Congregation Program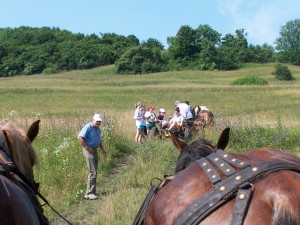 Click here to learn more
The program promotes the exchange of clergy, parishioners, and resources between First Parish and the Unitarian Church of Székelykeresztúr in Transylvania, the birthplace of Unitarianism. These exchanges, between two historic churches on different continents and between congregations speaking different languages in different cultures, enrich the life and worship of both congregations and deepen our mutual understanding of what it means to be Unitarian.
Advocacy Network to End Family Homelessness
The Advocacy Network to End Family Homelessness was formed through the Cooperative Metropolitan Ministries in 2005 in response to the worsening housing and homelessness crisis in Massachusetts. The Network educates citizens and promotes program and legislative advocacy for stable housing. Network participants are encouraged to contact appropriate legislators to advance these issues and have resulted in Network programs being added to legislative priority lists. Based in Concord and Acton, the Network has more than 260 participants. The Network organizes a yearly public and legislator forum to highlight the impact of homelessness on families.
Beloved Conversations
Here's an audio of what Beloved Conversations is and how it works.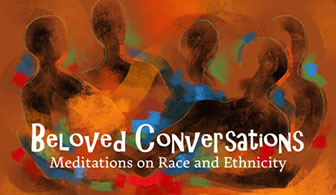 Beloved Conversations is an experiential curriculum that provides a space to re-form/fuse the brokenness of racism into new patterns of thought and behavior ushering in social and spiritual healing. New ways of being are learned through the actions of conversation and probing dialogue. The program will start at First Parish in mid-winter 2018 sponsored by Race Conversations and the SAC Board. The program consists of a 1.5-day retreat that launches the curriculum, followed by 8 weeks of guided dialogue/experiential exercises. Each session in the 8-week curriculum is two hours, and highly structured.
The retreat is facilitated by a trained Fahs Collaborative staff person; the following eight sessions are facilitated by members of the congregation running the program. The work is done in small groups of 10-12 participants.  Each session poses questions that connect with both the sources of inspiration as well as the challenges of race/ethnicity that slow our human journey toward wholeness. The curriculum differs from many approaches to anti-racism/multicultural work because it frames the discussion not only in terms of demographic urgency or cultural critiques (both of which are useful to understand!), but how developing skills and the habits of an anti-racist mind helps everyone – those in dominant groups as well as those who are targets of oppression. Here's a link to the UUA Website on Beloved Conversations.
Reclaim Our Democracy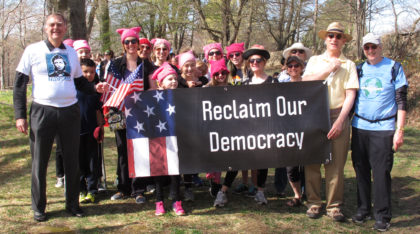 The Denominational Affairs Committee at First Parish embraced the 2014 UUA Congregational Study Action Issue of Escalating Inequality and sponsored activities in 2014 and 2015 that led to the formation of the Americans for Economic Fairness group in May of 2015. We created a name and mission statement for ourselves and encouraged others to join our efforts. Our goals were to find ways to increase economic fairness in elections, taxes, wages, education and healthcare.  As we have learned, the issues surrounding escalating inequality are complex, intertwined, systemic and deeply rooted in our culture. By far the most compelling issue that the group identified was the impact of escalating inequality on our democracy.
In June of 2016 the UUA adopted a new Congregational Study Action Issue The Corruption of Our Democracy which is focused on the negative influence that huge amounts of money from corporations, billionaires, and special interest groups has on our national elections and on the effectiveness of congress. This issue fit in extremely well with our mission and we began focusing on it in September of 2016.  We have been working with other UU churches to advance education and action on this issue, and in January, 2017, we brought 75 people together from neighboring towns and nearby churches to learn and take action together. We expect this topic to occupy our attention for some time to come and in March, 2017 we decided to rename our group Reclaim Our Democracy.  We are working with many different organizations to reclaim our democracy including American Promise, Our Revolution, Represent.Us, UU Mass Action and many other UU churches.
People can email Fred Van Deusen to get on our mailing list or follow our group on Facebook:  https://www.facebook.com/groups/ReclaimOurDemocracy/ and learn more about what we are doing at:  http://reclaimourdemocracy.org/.  All are welcome to join us and attend our events.
Immigration Justice Task Force
Tony Rodriguez or Laurie Van Loon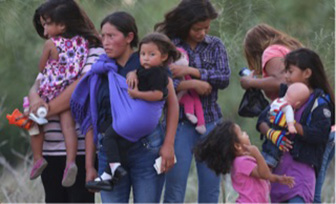 The First Parish Immigration Justice Task Force (IJTF) was formed to educate ourselves and our fellow parishioners, and seek ways to take action in response to the mounting immigration crisis in our country.
Immigration is an extremely complex issue. It is also a moral issue. A core belief of Unitarian Universalists is the inherent worth of every person, without exception. Extreme violence in other countries has led to increased flight to the US for safety at the same time as domestic political forces are denying access to entry, and treating as criminals those already here. The actions of federal Immigration and Customs Enforcement (ICE) at local levels have escalated to include raids, detentions, and violations of human rights against non-criminal residents of the Boston area and all around the country.
The IJTF is a Social Action Community program launched in February 2017. We have been busy. We have joined in actions with UU Mass Action, UU College of Social Justice, and other UU and non-UU efforts related to advocacy and fairness toward those who seek safety in the US.
Interfaith organizing has begun and some churches are now developing plans to provide "Level 1" Sanctuary: that they will bring into residence in the church building an individual asylum seeker or family faced with deportation, for as long as it takes to secure their residency here. Currently there are 10 congregations in Massachusetts prepared to offer physical sanctuary, including our UU neighbor in Bedford (a "Level 1" sanctuary). First Parish has covenanted to provide backup support to Bedford when a guest or family is in residence.
IJTF members welcome your involvement with us.
Amnesty International (AI) Group 15
Nancy Lyons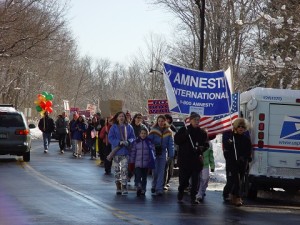 AI Group 15 is the Concord area voice of Amnesty International USA and part of a worldwide campaign movement of ordinary people working to promote the human rights enshrined in the Universal Declaration of Human Rights. Members and visitors come together for two hours each month to send letters on behalf of human rights.
Amnesty's special emphasis has always been on people who are in prison solely for expressing their views. AI Group 15 also sends monthly letters on "Urgent Action" cases, which address the plight of people around the world that Amnesty considers to be in IMMEDIATE DANGER because of their ideas and their non-violent work on behalf of those ideas. AI Group 15 also sends monthly letters against the death penalty. At times, AI Group 15 also writes letters on other important issues including human trafficking, child soldiers, LGBT issues, maternal mortality prevention.
AI group 15 also writes cards of support and encouragement directly to prisoners when appropriate. Pre-written letters and blank envelopes are provided at the meetings. All you need to bring is a passion for human rights and a pen for signing letters and addressing envelopes! These letters sent by Amnesty International groups have proven time and again to make the difference in a prisoner's life- whether it be release from prison, access to attorneys and medical care, or improved conditions. AI Group 15 has been a participant in some of these successes. AI Group 15 recently wrote letters that helped obtain the release of detainees from Guantanamo Bay who were determined not to be enemies of the U.S. but were just languishing in prison. AI 15 also hosts community events to raise awareness of human rights issues. SAC Grants has historically supported this program.
Meetings: Third Tuesdays, 7:00 PM – 9:00 PM, First Parish in Concord, Greeley Room
The MA Campaign for a U.S. Department of Peace

The Massachusetts Campaign for a U.S. Department of Peace, a chapter of The Peace Alliance, works to make nonviolence a national priority through civic action and seeks to establish a Cabinet-level Department of Peace. With a Cabinet-level secretary, the nation's capacity for non-violent conflict resolution and ability to address root causes of violence will be expanded. The MA Campaign also actively supports the Youth PROMISE Act (Prison Reduction through Opportunities, Mentoring, Intervention, Support and Education), which, when established, will save lives, save money, and create safer communities. In coalition with local peace-building programs, the MA Campaign holds community public awareness that promote dialogue.
The MA Campaign and The Peace Alliance advocate for legislation and policies to provide evidence–based programs for violence prevention, and build sustainable peace both domestically and internationally. V
Board members are Rod Deck, Kay Deck and Alec Walker.
Diversity Committee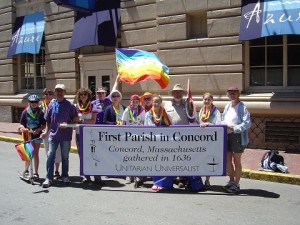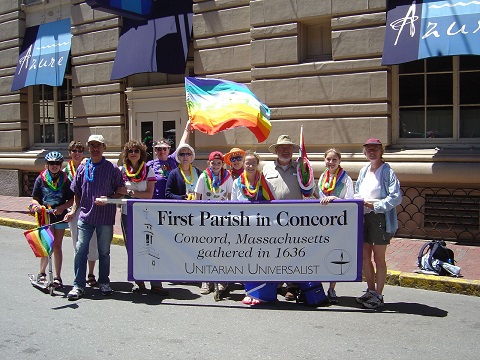 First Parish is a Welcoming Congregation for all, regardless of race, ethnicity, ability or disability, creed, sexual orientation or gender expression. The Diversity Committe
builds community awareness with films, speakers, and participation in the annual Boston Gay Pride Parade.
Have you noticed the gender-neutral bathrooms at First Parish? To learn more about why it is important to have explicitly gender-neutral bathrooms, talk to Sara Ballard or check the Unitarian Universalist Association's resources on gender-neutral bathrooms.
Common Cathedral/Ecclesia Ministry
Common Cathedral, a program of Ecclesia Ministries, is a congregation of homeless and housed people who meet on the Boston Common for a worship service every week of the year, regardless of weather. During the decade since First Parish became involved in Common Cathedral, outdoor ministries has grown to some 40 other communities across the US and internationally. Click for more information.
First Parish's Youth group and RE 7th graders provide lunch and participate in a Sunday Common Cathedral.
Jericho Road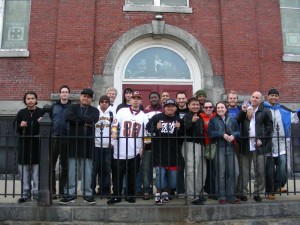 The Jericho Road Project sprang from an idea from First Parishioners and has grown into an independent non-profit organization with locations throughout the country. It matches professional talents of volunteers with the needs of community-based nonprofit organizations to promote community development, strengthen social services, and enrich the lives of volunteers. organizations that can help individuals and families become economically self-sustaining. By providing professional services and technical assistance, Jericho Road volunteers improve the quality of life of Lowell's underserved communities. This SAC Program has been replicated nationally, so volunteer opportunities exist in other cities as well. SAC Grants has historically supported this program.
Louis D. Brown Peace Institute
Dorchester-based, Louis D Brown Peace Institute supports survivors of violence and assists and empowers families impacted by violence. Following innovative restorative justice practices, the Peace Institute provides programs, trainings and other services through a multi-cultural lens. The Peace Institute works in the public sector to make restorative justice practices available to survivors of homicide, and also in the public school system through its PeaceZone curriculum.
Each May since 1996, the Peace Institute had held a Mother's Day Walk for Peace to honor families who have been affected by homicide. Many members of First Parish in Concord often participate in this walk.
Louis D. Brown Peace Institute is a SAC Grant recipient.
Advocates for Women's Empowerment (AWE)
(Formerly Reproductive Justice)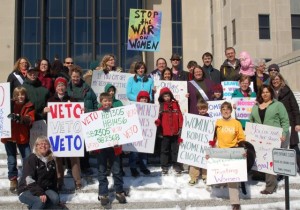 Background: The UU General Assembly voted 'Reproductive Justice' as the 2012-2016 Congregational Action Issue. First Parish formed a group in 2012 and recently changed our name to be more inclusive. It is now Advocates for Women's Empowerment (AWE).
Mission: We seek to encourage women to empower themselves and others, to promote advocacy and activism and raise awareness of inequalities still experienced by many women.
Vision: We envision a world where all genders work to optimize women's quality of life by removing social, economic, political, and institutional barriers, to promote choices, access, and agency.
Goals:
Regular meetings on the third Saturday of each month. Locations are posted on church calendar.
Annual screening of Lunafest, a powerful juried film festival that highlights the work and causes of women. The event raises funds for the Breast Cancer Fund and a local women's non-profit chosen by the group.
Annual Toiletry Drive for Rosie's Place.
Updates on state and national policies and planning for group activism with Boston based women's non-profits.
Participation in Massachusetts Lobby Days at the Boston State House. Stay tuned for dates.
Group participation in 2017 March for Women in Washington, DC and in Boston.
Please join us! Contact Lora Venesy at venesy@comcast.net with any questions.
Reverence for Life
The Reverence for Life program (RFL) emerged in response to calls from justice seeking Unitarian Universalists to stretch our faith's vision of love and justice to embrace all beings. First Parish is one of four UU churches nationally selected to pilot the Reverence for Life Program in part because we are seen as a leading and justice seeking parish. RFL stimulates discussion and personal growth about more mindful ways of thinking about our fellow beings, human and non-human.
This is an active program offering potluck dinners, informational/inspirational speakers, movie screenings, and an annual Thanksgiving Dinner. Join us as we create a mindful community!

Unitarian Universalist Service Committee
UUSC advances Human Rights and Social Justice around the world, partnering with those who confront unjust political, economic and social policies and power structures. This mission of the UUSC is guided by the Universal Declaraion of Human Rights (UDHR), as well as Unitarian Universalist principles, which affirm the inherent worth and dignity of every person. UUSC works in four major areas:
Civil Liberties
Economic Justice
Human Right to Water
Human Rights in Humanitarian Crises
The UUSC is independent from the UUA and supports international economic and environmental justice, rights in humanitarian crises, and civil liberties. First Parish has a goal of 100% membership from our congregation, and to that end we actively support the annual membership drive through Guest at Your Table (Nov/Dec).
The UUSC team is also actively involved in other events throughout the year in worship and through Religious Education. First Parish has also historically supported targeted fundraising to be directed to the UUSC in response to current world crises.
UU Urban Ministry
The Unitarian Universalist Urban Ministry (UUUM) unites communities and transforms individuals through education, service, and advocacy. UUUM engages communities and congregations in social action with programs that empower youth and adults to realize their full potential.
UUUM has a broad reach: a domestic violence shelter in Roxbury, after school and weekend programs for children and teens, a men's group, and a program providing a path to college and beyond. These programs change people's lives.
Mark Richards, a First Parish member and a UUUM representative spoke movingly at a Sunday service. Read more about this wonderful worship service
UUUM is a SAC grant recipient and SAC partners with this 150-year-old institution in the heart of Boston to build connections in the Roxbury and Dorchester communities.
Roxbury Youth Programs (RYP) is an after-school program focused on helping youth develop the academic, interpersonal and leadership skills that will empower them to be leaders in their families, schools and communities.
Stand High/Stand United (SHSU) is a weekend enrichment program for youth that promotes self expression through the arts and provides opportunities for youth leadership and personal growth.
Renewal House is a spiritually based emergency shelter that provides support and extensive services for adults and their children escaping from abusive living situations.
United Souls is a support group and network for men in transition.
Funderburg Scholars Program provides personal and financial support for inner city students to apply to, attend and graduate from college. SAC Grants has historically supported these programs.
Youth Service Trips
Transformation happens on service trips. We work. We reflect. We share community. We develop lasting relationships. We make a difference.
Our youth group went to West Virginia with Appalachia Service Project in April, 2014 and New York City with Youth Service Opportunity Project in February 2015. Where will we go next?
If you're interested in being an adult chaperone on this trip, please contact Bethany.
First Parish service trips are envisioned as a transformative experience for both youth and chaperones. Current offerings vary by year but include: West Virginia to do construction in impoverished communities with Appalachia Service Project, to El Salvador to learn and do service at Centro Arte para la Paz, and Transylvania with the Partner Church Community to work with our partner church. Other overnight "mini service trip" offerings may include City Reach and the Heifer International's Overlook Farm in Rutland, MA.
Youth are encouraged to fundraise to make these service trips self-sustaining. Some scholarships are available for youth participants.
Sustainability
Environmental Action Team
First Parish in Concord is an accredited Green Sanctuary congregation. But our work has just begun.
The Seventh Principle of our UU faith affirms our "respect for the interdependent web of existence, of which we are a part." The Environmental Action Team ("EAT") is committed to providing leadership for this congregation in translating this principle into individual and community action.
We 'honor all beings" and work for a greater understanding and appreciation of how we are interconnected with the natural world. We believe that how and where we live, work, play, and pray impact that world and all of its inhabitants, now and for future generations of all beings.
The First Parish in Concord Religious Education program also fosters a tradition of environmental activism. EAT members: Peter Lowitt (Chair), Bob Andrews, Berni Jenkins, Bob Van Dyke, Topher Buck, Debbie Barr, and Brad Hubbard-Nelson.
Quality of Life
Concord Prison Outreach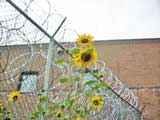 Concord Prison Outreach (CPO) is a non-profit organization established by people of First Parish in Concord and several other Concord faith communities many years ago. CPO is committed to helping incarcerated people build better lives for themselves, their families, and their communities. We work cooperatively with the Massachusetts Department of Correction (DOC) to recruit, train, and support volunteers who teach valuable skills to people in prison. Our educational programs focus on skill-building and personal growth, which we believe can make a positive difference both during prison and after release. Primarily, we serve Concord's two prisons: MCI-Concord (medium security) and Northeastern Correctional Center – "NECC" or "the Farm" (minimum security and pre-release). We also provide programs which reach out to the community, including the annual Holiday Gift Bag Project, Caroling Night at the farm, and Family Days, and we sponsor events for the public in the greater Concord area to help raise awareness and understanding about the criminal justice system. Since 1968, we have developed into the largest organization of our kind in the Commonwealth of Massachusetts. Hundreds of individuals and nearly 40 faith communities join us in our mission to offer compassion, education and opportunity to those behind bars. Concord Prison Outreach is grateful for the annual financial support it has received from First Parish for many years.
Cradles to Crayons
Cradles to Crayons (C2C) is a non-profit organizations based in Quincy, MA, that provides homeless and in-need children with basic essentials so they feel safe, warm, ready to learn, and valued. It also enables meaningful volunteer opportunities to thousands of individuals and hundreds of organizations annually. This is program is supported by a First Parish donation drive and other visibility raising events.
For additional information: click here to see what items will be accepted or not be accepted.
Crop Walk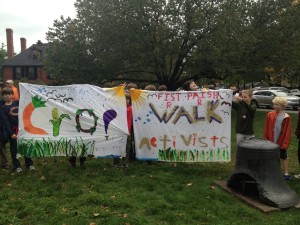 The Concord Crop Walk for the Hungry takes place on a Sunday afternoon in mid-October each year, starting at First Parish. Crop Walk is all about neighbors walking together to take a stand against hunger in our world. Together walkers raise awareness and funds for international relief and development, as well as local hunger fighting. Each walker gets sponsors and raises money for Church World Service (www.churchworldservice.org) an international relief agency, and for food pantries. Twenty-five percent of the money raised goes to support nine area food pantries and suppers, while the rest goes to the global disaster relief and development projects of Church World Service, the service organization of the National Council of Churches. Funded projects include digging wells to provide access to clean water, land mine removal to allow safe cultivation of agricultural land, micro-loans, schools, and medical care for those who lack access.
Household Goods Recycling
HGRM is a non-profit based in Acton, MA that provides household goods, free-of-charge, to individuals in need. Staffed by volunteers, they accept donations of gently used household items that will help people make a home. This program is supported by a First Parish donation drive and other visibility raising events. HGRM is a SAC grant recipient.
Click here to see what items will and will not be accepted.
General Donations
You do not need a special donation day to drop off items for those in need. A dedicated First Parish member accepts donations of clothing throughout the year. Drop them off on his porch and he will connect with the Acton Food Pantry to get your clothing items to people in need.
Usable, in season clothes can be used by others in need.
Many organizations collect clothing, but most, including Morgan Memorial, sell the clothing at thrift stores instead of giving it directly to an individual. Some organizations ship the clothing to developing countries where a surplus of used clothing undermines local industry and individual seamstresses and tailors. The yellow collection boxes sell the clothing for rags and donate a fraction of the proceeds. Bill works to find local organizations that will give the donations directly to local people in need.
Secret Santa
A beloved intergenerational First Parish tradition!
Secretly adopt a young child, teen or adult and help make some of their holiday wishes come true by donating some items on their wish lists.
During the holiday season, First Parish partners with the Walden Street School for Girls, Eliot Center and the UU Urban Ministry's Renewal House to secretly "adopt" a young child, teen or adult and help make some of their holiday wishes come true. In November parishioners select an individual or family and purchase some items on their wish list. These items are collected at First Parish and delivered to the recipients in time for the December holidays.
Open Table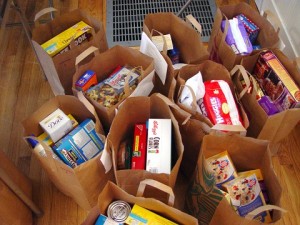 Founded in 1986 at First Parish, Open Table is a weekly dinner and food pantry which serves the hungry or those in need of support. Our guests include people of all ages from diverse backgrounds who share a common need for supplemental groceries, a nutritious meal and the company of others. Volunteer opportunities exist during meal service hours. Food donations can be dropped off during business hours at Crosby's Marketplace on Sudbury Road, Concord or on Thursdays from 1-3 pm (or by appointment) at the Open Table pantry at 105 Everett Street, Concord. When making contact, please mention that you are connected with First Parish.