Widening the Circle/COIC
 

"We can never be the bearers of love and justice that the world so desperately needs if the foundation that sustains us is still perpetuating the very problem we long to solve."
Sofia Betancourt, GA 2018
Please visit this page regularly for updates.
October 18, 2022 Update
The COIC sponsored our kickoff event last Sunday (Oct. 16) – a 90-minute walking tour, arranged through the Concord Visitor's Center, and focused on the history of Afro-Americans in Concord. First Parish's own Mary-Wren vanderWilden (School Programs Coordinator at the Concord Museum) led the tour. Even those of us who have lived here for decades learned so much.
A few examples. On the plus side, it was the women in town who were the first to push for abolition. And many were hands on in assisting the underground railroad (which supported so many enslaved people on their way to freedom). But, It also turns out that, in addition to being the home of the patriots who launched the Revolutionary War, Concord was also the first town to legalize slavery. And many of our leading thinkers (Emerson, Thoreau, others) were either slow to speak out against slavery or never did. In addition, many prominent Concord families benefited financially from the triangle slave trade. So, like many places in our country, our history is mixed.
June 27, 2022 Update
On June 25, 2022 at General Assembly, representatives of UU congregations voted in favor of an Action for Immediate Witness (AIW) that calls on members of our faith to address Anti-Racism work and Reparations NOW. 
It is a clear, direct, and powerful call from our faith to all of us to ACT.
We on the First Parish Commission on Institutional Change (COIC) ask everyone in our congregation to please take the time to read this 2- page document. The link is provided below.
AIW Anti-Racism and Reparations via Restorative Justice 2022.
We also recommend our congregants invest in the following resources:
Wilderness Journey: The Struggle for Black Empowerment and Racial Justice  (Running Time: 1:16)
Wilderness Journey is a documentary that tells the eyewitness history of the schism between Black and White UUs that dates from UUA actions taken between 1967-70.  Former First Parish minister, Dana McLean Greeley plays an important role.
April 5, 2022 Update
The First Parish Commission on Institutional Change (COIC) was established by The First Parish Standing Committee in the fall of 2021.
COIC members are: Jennipher Burgess, Peter Nobile, Ken Reeves, Toby Smith Ropeik (co-chair), Darien Smith (co-chair), Dana Snyder-Grant, Cindy Soule
The COIC's charge from the Standing Committee reads:
The First Parish in Concord Commission on Institutional Change (FPCOIC) is charged to:
Assess congregational policies, practices and procedures for their alignment with our UU values of equity, inclusion, and diversity.

To engage First Parish members, friends and staff in identifying opportunities for systemic change that will help FPC realize itself as a place of radical welcome and anti-oppression work. 

To recommend action(s) that serve to dismantle white supremacy within the culture, practice, policies and procedures within FPC. 
This charge is a broad one and will require slow, deliberate, and thoughtful work over years, rather than months. Members of COIC are committed to involving the entire congregation in this work. We welcome your input. You can contact any member of COIC with your ideas and suggestions. 
If you want to begin now, we encourage everyone in the congregation to download and read the UUA report, Widening the Circle of Concern. It's free.
You can also read more about what actions have led to this work below. 
Background to Formation of First Parish COIC
2017 – UUA Commission on Institutional Change
At the New Orleans General Assembly in 2017, the Unitarian Universalist Association (UUA) Commission on Institutional Change was established and charged by the UUA Board of Trustees to conduct an audit of white privilege and the structure of power within Unitarian Universalism, and analyze structural racism and white supremacy culture within the UUA. The Commission was in place for three years through the Virtual General Assembly in June of 2020.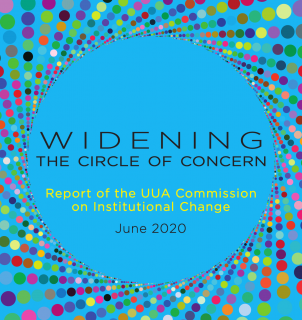 A report entitled Widening the Circle of Concern summarizes the UUA Commission's findings and recommendations. The UUA also prepared a Study Guide to accompany the report. That guide, Widening the Circle of Concern Study/Action Guide guides Congregations through a similar process.
LINK TO VIDEO INTRODUCTION ON WIDENING THE CIRCLE OF CONCERN
2020 UUA Virtual General Assembly
GA (June 2020) was devoted largely to the Commission's Report and related racial justice topics. Follow this link and scroll half-way down the page to view the Commission on Institutional Change Presentation to the General Assembly
First Parish's General Assembly delegation of 14 met during and following GA. They reached a consensus that it is important for the First Parish congregation to learn about the UUA COIC, and that First Parish could benefit from undertaking similar self-examination. Most delegates worked together to formulate an approach for a First Parish Commission, and submitted a proposal to the Standing Committee and Howard to appoint and charge such a commission.
The Standing Committee has approved the proposal, and Howard and the staff are on board. 
Laying the Groundwork for a First Parish COIC (2020-21)
Team: Jan Power, Darien Smith, Holli White-Jones, Carl Proper, Lois Suarez, and Wendy Holt. This group worked to
Inform the entire congregation about the UUA COIC and their Widening the Circle of Concern report by meeting with FP groups, speaking with individuals, and expanding the content on this website.

Introduce language and nomenclature about systemic racism and social injustice.

Respond to any questions and concerns parishioners have about the proposed work of a FP COIC.

Generate interest in serving on a FP COIC.
Please visit this page again.  We will be updating regularly.