Neighboring Activists
Join Our Bucket Brigade!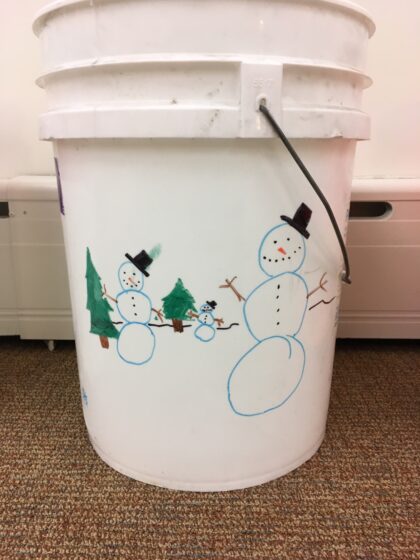 Each year, our Neighboring Activists deliver buckets of sand for Concord seniors to use on icy sidewalks, driveways and steps. We are going to keep up this tradition! Would you be willing to fill a bucket of sand and deliver to a Concord resident? All ages are welcome to help this year! Buckets will be available for pick-up at First Parish on Sundays, December 5 and 12. If you wish, you can decorate the bucket with sharpies or duct tape! Concord Council on Aging provides name, address, and a drop location for each bucket. The sand is available at two locations: Rideout Field in W. Concord and Sewer Pump Station on Keyes Rd. 
If you would like to help deliver one (or more) of our 26 buckets, please sign-up: Form Link
Thank you for making a difference in our community!

SECRET SANTA 2021
Once again, we have the opportunity to spread some holiday cheer. As in years past, we are collecting donations to provide gifts to people served by the Eliot Center, Unitarian Universalist Urban Ministry's Believe in Success program, and Walden Street School (information below). Like last year, we are collecting Visa cards. These cards are widely available ($50 is preferred – see picture below).  There's an added purchase charge when you buy it, but the "Vanilla" type (for instance) has no fees for the recipient.  Leave the card blank.  Put your card(s) in an envelope and mail it to First Parish or drop it by the office while the church is open. The deadline is December 12th.  Address the envelope as shown below (don't forget the Attn: Dawn Van Patten):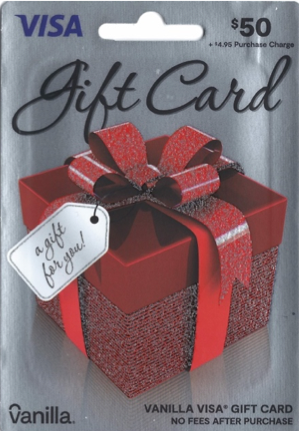 First Parish in Concord
20 Lexington Road
Concord, MA 01742
Attn: Dawn Van Patten
Our three organizations:
Eliot Center Human Services, based in Lexington, is a private, non-profit human services organization providing a continuum of care to the most vulnerable populations throughout the Commonwealth of Massachusetts. Our gifts go to clients served through their Concord office.  More info at: https://www.eliotchs.org/cyf/
Believe in Success, based in Boston and run through the Unitarian Universalist Urban Ministry (UUUM), is a trauma-informed workforce development program for survivors of domestic violence. The mission of the program is to provide a set of skills that enable participants to be successful in taking their next step in life, whether that's entry-level work, a skills-based training program, or two- or four-year college.  More info at: https://www.uuum.org/dv-services
The Walden Street School is located in Concord and serves adolescents between the ages of 12 and 22 who have struggled with significant and chronic past trauma and/or organic mental illness. Typically, students cope with emotional dysregulation, at-risk behaviors, behavioral issues, academic issues, and at times psychosis.  More info at: https://www.youtube.com/watch?v=Ja8n4FQOr8c
Save
Save
Save
Save
Save
Save
Save
Save
Save
Save
Save
Save
Save
Save
Save
Save
Save
Save
Save
Save
Save
Save
Save
Save
Save
Save
Save
Save
Save