Middle School Youth

Neighboring Activists: Grade 6, Emerson Room

Our Sixth Graders are exploring how they can make a difference in our congregation, locally and globally. In the Fall, they will be helping to mobilize First Parish participation in the Concord CROP Walk for the Hungry. The Concord Mass. Area CROP Walk for the Hungry will be held on Sunday, October 20, 2019 at First Parish in Concord. Youth in 6th Grade start in the Sanctuary with their families. Following the Children's Message, they leave the Sanctuary for their classroom with their teachers.
Neighboring Faiths: Grade 7, Brooks Room

This program gives our First Parish 7th Graders exposure to many different faith traditions. Through on-site discussions and off-site visitations, 7th Graders develop an appreciation for other religions while also growing a deeper understanding of our own Unitarian Universalist traditions.
UU Explorers: Grade 8 (Fall), Chapel

Following the Neighboring Faiths experience the previous year, our 8th Graders explore their UU identities. This offering includes field trips to other Unitarian Universalist congregations, spiritual practices and deep conversations about the science and the power of spirituality. In order to enroll in 8th Grade OWL (our comprehensive sexuality program offered January-April, 2020), it is required to participate in UU Explorers. We implemented this new policy in order to help the group bond and build on UU values for the OWL program.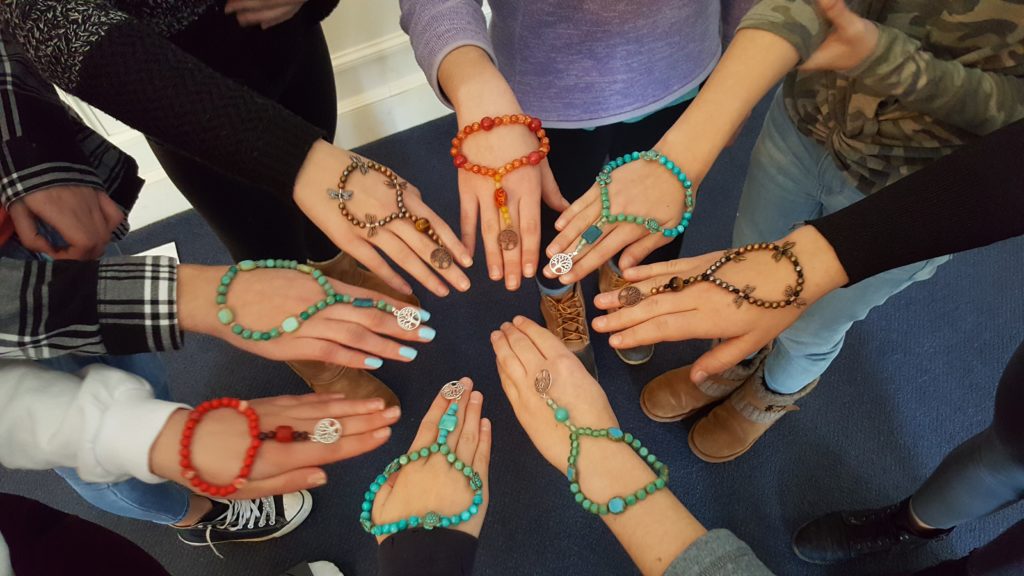 UU Explorers make prayer beads, Fall 2018
Save
Save
Save
Save
Save
Save
Save
Save
Save
Save
Save
Save
Save
Save
Save
Save
Save
Save
Save
Save
Save
Save
Save
Save
Save
Save
Save
Save
Save